Both stress and anxiety are normal, although they can overwhelm people at times.
This article explains the differences and similarities between stress and anxiety and looks at treatment and management strategies. It also outlines when one can benefit from medical assistance.
Differences Between Stress and Anxiety
Both stress and anxiety are part of the body's natural fight-or-flight response. When someone feels threatened, their body releases stress hormones.
Stress hormones cause the heart to beat faster, which in turn pumps more blood to the organs and tissues.
This response allows a person to prepare to either fight or flee. They also breathe faster, and their blood pressure rises.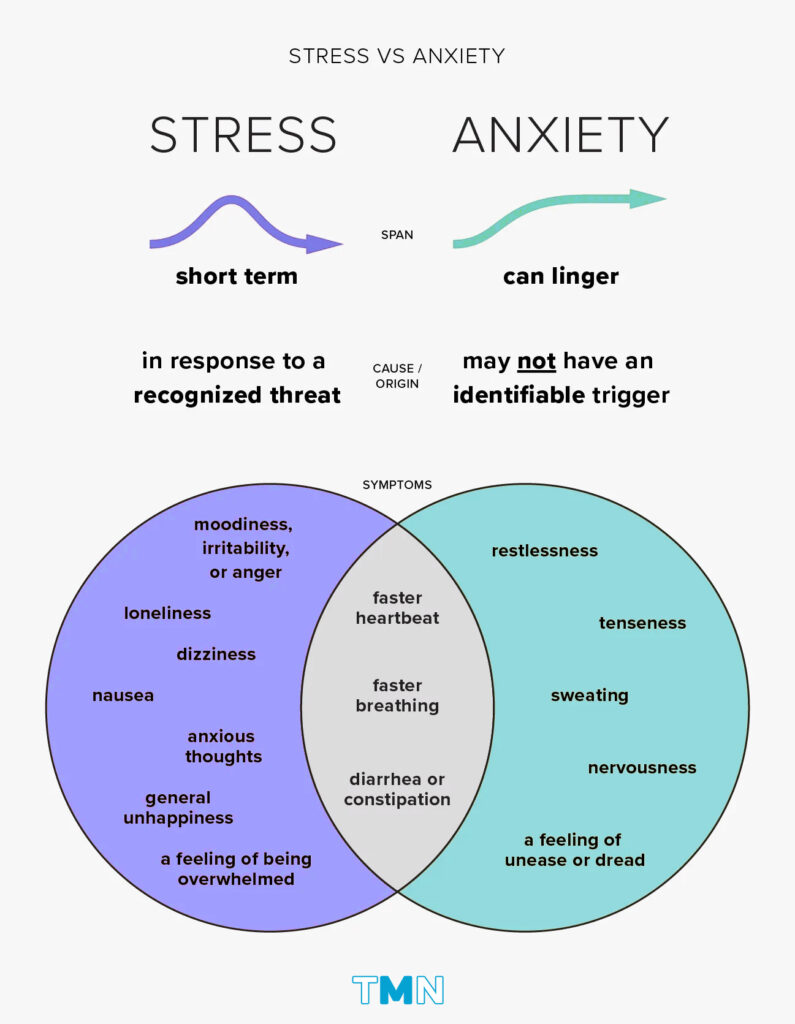 At the same time, a person's senses are heightened, and their body releases nutrients into the blood to ensure that all parts have the energy they need.
This process happens really quickly, and experts call it stress. Anxiety is the body's response to stress.
Many people will recognize anxiety as a feeling of discomfort, unease, or dread that one experiences before an important event. It keeps them alert and aware.
The fight or flight response can be triggered when someone is faced with a physical or emotional threat, real or perceived. While this can be useful, for some people, it can interfere with daily life.
Symptoms
The symptoms of stress and anxiety have many similarities. When someone is stressed, they may experience:
faster heartbeat
moodiness, irritability, or anger
faster breathing
general unhappiness
anxious thoughts
loneliness
diarrhea or constipation
nausea
a feeling of being overwhelmed
dizziness
When someone is anxious, they might experience:
faster heartbeat
a feeling of unease or dread
faster breathing
restlessness
diarrhea or constipation
nervousness
sweating
tenseness
How to Tell Stress From Anxiety
Stress and anxiety are part of the same physiological response and have similar symptoms. This means they can be difficult to separate.
Stress is short-term and in response to a perceived threat. Anxiety can persist and sometimes it seems as if nothing is triggering it.
Can One Turn Into the Other?
Sometimes, stress can turn into anxiety. Stress is the body's response to danger, and anxiety is the body's response to stress.
Stress and anxiety are perfectly normal human responses to threatening or distressing situations. They are part of the fight or flight response that keeps us safe by preparing the body to deal with danger.
Stress is the body's response to danger, while anxiety is the body's response to stress.
People can manage their stress and anxiety by using relaxation techniques, such as breathing exercises, physical activity, and talking about their worries.
Sometimes, stress and anxiety can overwhelm people. When this happens, it can lead to chronic stress or anxiety disorders. Anyone who feels that stress or anxiety is interfering with their daily life may want to talk to a doctor.