Grapeseed oil has been growing in popularity over the past few decades.
It is often touted as healthy because of its high content of polyunsaturated fats and vitamin E.
Marketers claim it has all kinds of health benefits, including lowering your blood cholesterol levels and reducing your risk of heart disease.
This article takes a closer look at the research available to separate fact from fiction.
What is Grapeseed Oil and How is It Made?
Grapeseed oil is processed from grape seeds, which are a byproduct of winemaking (1).
From a business perspective, producing this oil is a brilliant idea. For thousands of years, brewers have been left with tons of this useless byproduct.
Due to technological advancements, manufacturers can now extract the oil from the seeds and make a profit.
The oil is usually extracted in factories by crushing the seeds and using a solvent such as hexane, which helps extract more oil from the seeds. This solvent extraction process is used for many types of vegetable oils, such as soybean oil (2, 3).
Some people are concerned that traces of toxic solvents, such as hexane, could adversely affect people's health.
Virtually all solvents are removed from vegetable oils during the manufacturing process, but very small amounts may remain (3).
It is currently unknown whether traces of hexane in vegetable oils harm people over time. But hexane can harm food production workers if it is inhaled during oil production. It can also act as an environmental pollutant if released into the air. Research is now focused on developing green alternatives (2, 3, 4).
If your oil doesn't clearly state how it was treated, you should assume it was extracted using chemicals like hexane.
Grapeseed oil is extracted from grape seeds, a byproduct of winemaking. The process usually involves various chemicals, including the toxic solvent hexane.

SUMMARY
Grapeseed Oil is Low in Most Nutrients, but High in Omega-6 Fatty Acids
The health claims of grapeseed oil are based on its high content of vitamin E and polyunsaturated fats (6).
The fatty acid composition of grapeseed oil is as follows:
Saturated: 10%
Monounsaturated: 16%
Polyunsaturated: 70%
It is high in polyunsaturated fats, especially omega-6. Scientists have hypothesized that high amounts of omega-6 fats, compared to omega-3s, may increase inflammation in the body (7).
However, other studies have shown that linoleic acid — the type of omega-6 fatty acid in grapeseed oil — does not increase blood levels of inflammatory markers (8, 9).
Whether excess consumption of omega-6 fatty acids promotes disease is currently unknown. There is a need for high-quality studies examining the effects of omega-6 fatty acids on conditions such as cardiovascular disease (10).
Grapeseed oil also contains significant amounts of vitamin E. One tablespoon provides 3.9 mg of vitamin E, which is 26 percent of the DV (11).
Vitamin E has antioxidant effects that may benefit the nervous system and prevent tumor growth (6).
Like many other vegetable oils, grapeseed oil is not a good source of other vitamins or minerals.
How Does Grapeseed Oil Affect Your Health?
Few studies have investigated the effects of grapeseed oil on human health.
A two-month study in 44 overweight or obese women compared the health effects of daily intake of grape seed or sunflower oil.
Compared to taking sunflower oil, grapeseed oil improved insulin resistance and reduced levels of C-reactive protein (CRP), a common inflammatory marker (12).
It also seems to have anti-platelet effects, meaning it reduces your blood's tendency to clot (13).
However, an older study suggests that some grapeseed oils may contain levels of potentially harmful polycyclic aromatic hydrocarbons (PAHs), which cause cancer in animals (14).
It is not known how widespread the problem is or if it is a real cause for concern. Other vegetable oils, such as sunflower oil, may also be contaminated with PAHs (15, 16).
Although there are some indications that high-quality grapeseed oil may have some benefits, no strong claims can be made at this time.
Is It a Good Oil to Cook With?
Grapeseed oil has a moderately high smoke point (1).
For this reason, it is advertised as a good choice for high-heat cooking such as frying.
However, this may be bad advice, as grapeseed oil is also high in polyunsaturated fatty acids. These fats react with oxygen at high temperatures, forming harmful compounds and free radicals (17, 18).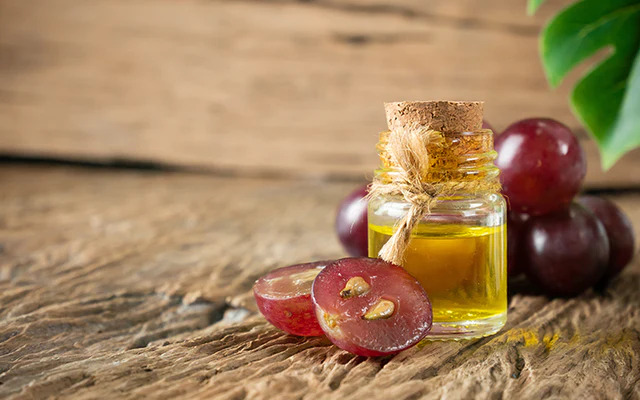 Because grapeseed oil is incredibly high in polyunsaturated fats, it can be one of the worst oils you can use for frying.
The healthiest cooking oils for high-heat frying are those that are high in saturated or monounsaturated fats, such as olive oil, because they are less likely to react with oxygen when heated. (19).
For this reason, you should avoid using grapeseed oil for frying. Instead, you can use it as a salad dressing or mayonnaise and as an ingredient in baked products.
Summary
Grapeseed oil is made from the seeds of grapes, which are abundant produce for making wine.
It is relatively high in vitamin E, as well as a rich source of omega-6 fatty acids. Unfortunately, research on grapeseed oil is lacking, so its health effects are not fully understood.
While there is nothing wrong with using grapeseed oil in salad dressings or baked goods, its high content of polyunsaturated fatty acids makes it unsuitable for high-heat cooking, such as frying.
If you are looking for cooking oil, olive oil can be one of your best choices.